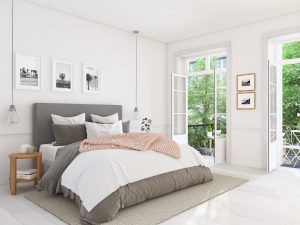 Bedroom Furniture Checklist: 7 Essentials for New Homeowners
About 85% of homeowners plan to complete an update or one home improvement project in the next year. Since people spend the majority of their time in their bedrooms, it is likely to be the site of their renovations.
This makes the bedroom one of the most customized and altered rooms in the house. This is because people tend to only change what they do not like in their bedrooms.
As a result, you will find different kinds of furniture in the bedrooms of homeowners, ranging from old to new. If you are aiming to become a homeowner soon, you need to have all the right furniture. With the right furniture, you will ensure the best rest.
But for the most part, people tend to forget about a typical furniture checklist that is specific for bedrooms. Here is the bedroom furniture checklist to guide you through the 7 essential pieces of furniture for a new homeowner.
1. Bedding
Beds occupy a lot of the room's space. Consequently, a neatly made bed might make the entire space appear flawless. You should be diligent in selecting a bedframe and bedding.
Bed frames can improve the appearance of your space. Directly positioned mattresses often have a careless and disorganized appearance. There are many different types of bed frames to choose from for your bedroom's design.
When decorating your bedroom you need to prioritize your bedding, because it will serve as the natural centerpiece of the room. Your bedding is a great way to make a statement by introducing different textures and sizes. Picking out a variety of throw pillows and an accent blanket can make your bedding stand out.
Even if the remainder of the room is extremely plain, it may make the entire space look modern, elegant, and attractive. Overall, layered bedding can drastically elevate a bedroom design.
2. Matching Nightstands
These matching furniture sets are placed on either side of your bed and allow you to decorate your bedside. This symmetry can help elevate your bedroom and allow you to display picture frames, jewelry holders, and lamps.
Nightstands are often equipped with shelves and drawers to conceal frequently used items and keep your bedroom tidy. These pieces of furniture can be used to keep your things organized. This storage should be welcomed as it can help keep your room free from clutter.
3. Spacious Dresser
One of the primary purposes of your bedroom is to store your clothing. Your clothing should have plenty of area in your bedroom as well as your closet. A dresser is a necessary part of your bedroom furniture.
A dresser helps to add structure and elegance to your room. In most cases, a traditional closet does not provide you with the structure or space needed to sort all your clothing. Bedrooms that lack additional clothing storage often look bare.
Your dresser dually serves as a piece of décor. You can place picture frames or other items on the top of your dresser. Due to a spacious dresser's size, it will inevitably draw focus while adding to the aesthetic appeal of your bedroom.
4. Sitting Area
You can elevate your bedroom by adding a sitting area. You can create a multipurpose area for relaxation in your bedroom by adding a chair, a sofa, or even a bench. This will help you create a space in your master bedroom to maximize comfort and give you an additive space to relax.
When creating a sitting area, you need to ensure that your master bedroom's layout allows it. This sitting area can serve as a spot to read or enjoy your morning coffee. This sitting area can serve as a transitionary spot to start your day and wind down before bed.
5. Light Fixtures
Effective light fixtures, such as lamps and overhead lighting, can create the illusion of space. Without enough illumination, a room would appear increasingly small. Proper lighting may be around a place to create a brighter, more spectacular setting.
Table and floor lamps are a cost-effective way to add a decorative element to your bedroom. You can browse through catalogs to find light fixtures which will match the hardware of the other furniture being brought in.
Lighting could affect the mood and shape of the room. Lighting has transformational powers when it comes to designing your bedroom.
6. Full-Length Mirror
The perfect bedroom design is equipped with a full-length mirror. Mirrors are a great functional addition to your room that can help illuminate your space. A large mirror will add a sense of grandeur to your bedroom layout.
Full-length mirrors are helpful when you are getting ready in the morning. Whether you lack a vanity to get ready or want to get a good look at your outfit.
A mirror expands the room and adds an aura of elegance to any room. A well-placed mirror can also make your room appear more spacious.
7. Wall Art
For a personal touch in your bedroom, you can select wall art that reflects your identity. A beautiful piece of wall art can be an affordable decoration that will improve your attitude, and also give your place more visual appeal.
Wall Art is a great focal point for your room. It will add interest and a mix of color to your room.
Complete Your Bedroom Furniture Checklist with Classic Home Furniture
Your bedroom should be a reflection of you and your style. Sometimes people struggle to capture their essence and a cohesive look when furniture shopping. That is why we are here to help.
Designing your dream bedroom can be a major challenge. However, if you can focus on this bedroom furniture checklist you will surely fill your room with both beautiful and functional pieces.
Make an account at RC Room Decor to start furnishing the bedroom of your dreams!