How to Incorporate Classic Home Furniture into a Modern Home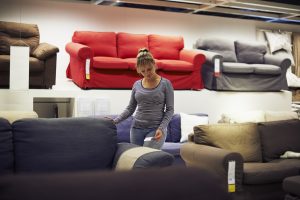 Interior design experts have predicted that closed floor plans are going to be on-trend in 2023. Closed floor plans are a staple in traditional and classic design, hinting that these interior styles will be back in favor, too.
Yet, many of us still live in decidedly modern homes. It may be easy to knock down a few walls to create an open-concept floor plan. But it is not so easy or cheap to build them back up.
So, what are you to do if you have a modern interior but want to incorporate classic home furniture? Transitional interior design style combines modern and traditional sensibilities for a look that is 100% unique.
What is the transitional design style, and how can you achieve this look in your space when buying furniture? We are answering these questions and more. Keep reading for all of our top tips!
What Is Modern Home Design?
Modern homes use a mid-century modern interior design style. Mid-century modern interiors were most popular during the 1950s, 1960s, and 1970s. Today, the new modern style dominates most updated home interiors.
Clean lines, a minimal color palette, subdued textures, and nature-inspired materials characterize this interior design style. Modern interiors are usually created within open-concept floor plans that feature plenty of natural light.
Mid-century modern and new modern homes feature furniture that sits low to the ground. The lines are squared-off and simple. The modern home designer's favored materials are natural ones, including wood, metal, leather, and linen.
What Is Classic Home Design?
Classic homes use the traditional interior design style. Interior designers consider a home traditional if it features curved lines, balance and symmetry, elegant details, rich finishes and textures, and a lot of accessories.
Most classic or traditional homes feature a common motif to tie everything together. That could mean a palette of subdued colors, a repeating pattern, or identical finishes and materials.
Traditional homes tend to have large, bulky furniture. Vintage and antique pieces are well-suited to classic home design. You can also combine second-hand finds with reproductions of traditional furniture pieces.
Transitional Interiors: How to Combine Modern and Classic Home Furniture
Transitional interior design gives homeowners the best of both worlds. It incorporates different types of furniture, minimal accessories, and diverse tones and textures.
Like traditional design style, transitional decor features balance and symmetry. Meanwhile, the modern lighting, nature-inspired textures, and minimal color palette have more in common with mid-century design style.
Designers love creating transitional interiors because this style is totally timeless. Yet, a transitional design style is not always easy to pull off. Here are our top tips to help you mix and match design styles with ease.
Choose One Style to Dominate
The most important rule to creating a transitional home is to pick one style to dominate.
A mostly modern home looks warmer and cozier with a dash of traditional decor. And traditional furniture looks less stuffy with a few modern additions.
It is a good idea to use the 80/20 rule here. For every four pieces of furniture you have in one style, one piece of furniture should be the other style.
Consider a transitional home where modern style dominates. You might have a modern-style sofa, coffee table, TV stand, and art. But the accent chairs could be in a traditional design style.
In a transitional home with a dominant traditional style, this would be reversed. The sofa, accent tables, chairs, and art may be traditional. But the TV stand might be a more modern option.
Connect Styles With Unifying Themes
Transitional-style homes have a lot going on. Some traditional-dominant transitional homes may even have a maximalist vibe.
That is why most experts recommend tying everything together with a simple color palette. Choose two to three colors to dominate the space to avoid overstimulation.
Color is not the only way to unify traditional and modern furniture. You can also try choosing similar patterns.
For example, say you have a traditional-style couch that features tufting. You could mimic this design element with tufted accent pillows, tufted chairs, or even tufted upholstery on the walls.
Yet another way to create unity in your transitional home is to use similar shapes. Focus on squares and triangles for a modern-dominant home and circles and half-circles for traditional-dominant interiors.
Create Contrast or Harmony
One of the biggest challenges with transitional interiors is making your decor look intentional. Transitional-style-gone-wrong can look like you have a permanent flea market inside your home.
If that is not the vibe you are going for, try this. When buying furniture and decor, try to consider contrast or harmony.
Adding contrast will amp up the excitement and energy of your space. On the other hand, adding harmony will create a feeling of relaxation.
As you can imagine, your choice of contrast and harmony is best when you go from room to room.
A lively kitchen and living area combo would look great with high-contrast elements. But the bedrooms and bathrooms might benefit better from balanced visual elements.
Looking for Furniture Options for Your Transitional-Style Home?
You may think modern and traditional are not a good match. But when you follow the rules of transitional decorating, you can create a cohesive and beautiful space. Plus, no other home will like quite like yours.
Are you searching for classic home furniture to warm up your modern home? RC Room Decor is a one-stop shop for all your home furniture and decor needs. Browse our timeless furniture selection to find the right piece for your space!